Rising demand for IVF in China causes spread of unlicensed clinics
Commercialisation of IVF causes boom in illegal clinics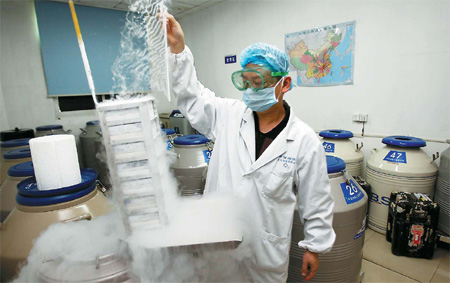 With 40 million people in China now affected by sterility, couples are turning in greater numbers to IVF in order to have children. Medical experts say the commercialisation of the practice in recent years has sparked a rapid growth in the number of unlicensed clinics for parents and surrogacy agencies.
Since IVF was introduced to China two decades ago, patient numbers have soared as the process has developed. Records from the Peking University No 3 Hospital, where China saw its first test tube baby born in 1988, doctors there treated 3,500 patients in 2008 and 5,000 in 2009. Qiao Je, director of its reproductive medical centre, said the figure is expected to reach over 7,000 by the end of this year. Reproductive health director at Shanghai No 1 Maternity and Children's Hospital, Teng Xiaoming, said patient numbers at the hospital are growing by around 50% every year.
Qiao estimates that at least 10% of people throughout China suffering infertility need IVF treatment, which can cost up to 50,000 yuan (US$7,500). Authorities have approved IVF at over 200 clinics. Experts say, however, that the rise in illegal operations – sometimes at established hospitals – shows the numbers are not nearly high enough. Patients at unlicensed clinics have often been sent there by surrogacy agencies, whose practices, while a legal grey area, are technically outlawed.
"You can tell how widely available illegal services are by looking at the advertisements of surrogacy agents on the internet," said Yang Fang, a professor of medical ethics at Anhui Medical University. "As most authorized hospitals don't provide such services, agents can only arrange patients to have IVF treatments at hospitals without the necessary license,"
she said
.
Unlicensed clinics have been popular among couples seeking to have a second child while dodging the required permit from family planning authorities. A 39-year-old woman, insisting on being identified only by her online alias, Zhi Zu, said she and her husband already have a son of 17 but plan to have a second child by exploiting loopholes in the system. "I bought a fake birth permit and after the child is born I will buy him or her hukou (permanent residency)," said Zhi Zu, who is receiving IVF at Beijing Jia'en Hospital.
~
China Daily, Nov 2
Jared Yee
China
infertility
IVF