Why is Spain so good at organ transplantation?
Spain is renowned for many things – bullfighting, football, food and film – and organ donation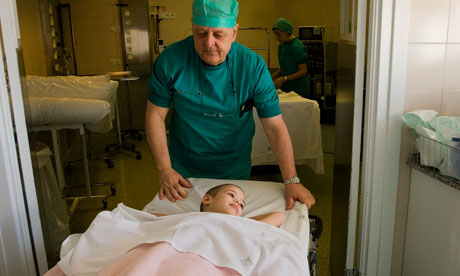 Spain is renowned for bullfighting, football, food and film. But
organ donation
? The country has around 5,500 people on the transplant waiting list, compared to about 8,000 in the UK. It has only two-thirds of the UK population, but the percentage of families who say yes to organ donation is impressive. In the UK it is 60%, but in Spain it is up to 85%. The organ donation rate in Spain is 34 per million, where in the UK it is 15.5.
According to the founder of the Spanish organ transplant network, Dr Rafael Matesanz, the country's success is not about donor cards, registers or "presumed consent". He says it is about the teams of transplant coordinators in every hospital. "The key is organisation. European people are not that different from one country to another. What really changes is how you approach the moment of death," he says.
In Spain, he says, when a patient arrives in critical care after an injury, stroke or heart attack, "there is no limitation to the care if there is a slight possibility to save the patient's life". Medical staff continue trying beyond much hope of recovery or resuscitation and there are a high number of critical care beds. Many who die in hospital are certified brain-dead on a ventilator, which allows for more organ donation. At this point, transplant coordinators visit the family of the deceased.
One transplant coordinator, Juan Carlos Robles Arista, explains: " The first and most important thing is the reaction to the announcement of the death," he says. "That is a hard moment for the family and also for the doctor. It is a painful situation but my job is to explain to the family that in their pain, they could find happiness in helping others." ~ Guardian, Mar 31
Why is Spain so good at organ transplantation?
Jared Yee
organ donation
Spain