Canadian baby at heart of ethics debate goes to US for surgery
Canadian doctors wouldn't treat him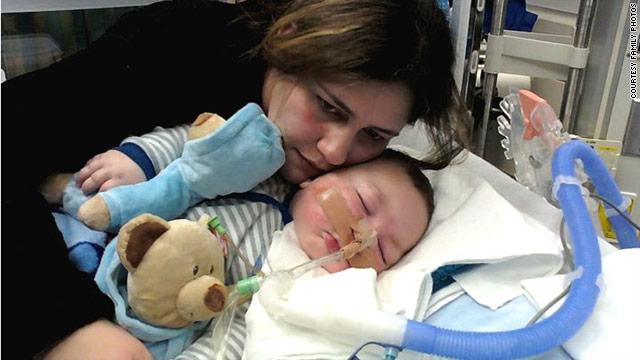 A tear-jerking futile care case has been fought in Canada with the help of American firepower. One-year-old Joseph Maraachli, the child of Lebanese immigrants in Toronto, has a rare neurological disease which causes degeneration of the central nervous system. Doctors at the London Health Sciences Centre in Canada have been treating him for months and believe that they can do no more. They recommended removing "Baby Joseph" from his ventilator. His parents refused. They wanted the hospital to do a tracheotomy so that the child could come home with them and die there. The parents insisted. The hospital went to court and the Consent and Capacity Board of Ontario supported the decision to take Baby Joseph off life support. The parents appealed and lost in the Ontario Superior Court.
American pro-life groups came to the rescue. They flew Baby Joseph to SSM Cardinal Glennon Children's Medical Center, a Catholic hospital in Missouri, whose doctors studied the case and decided to do the tracheotomy. "It is our hope that this procedure will allow Joseph and his family the gift of a few more months together and that Joseph may be more comfortable with a permanent tracheotomy," the hospital said in a statement. After a few days, the child will be discharged and brought home to Windsor, Ontario.
Canadian anti-euthanasia activist
Alex Schandenberg
says that the key issue in this emotional case is not euthanasia but who makes end-of-life decisions for children. He says that the law must be changed.
"It is incredibly expensive for the family to bring a case to the Superior Court and yet the doctor/hospital has no fear of costs because the health care institution has nearly unlimited legal resources. Because of the inequity in the legal defense, case after case results in decisions by the Consent and Capacity board that support the doctor/hospital. The law's inequality has resulted in a growing body of precedent-setting cases that constantly increase the power of the doctor/hospital to make medical decisions against the wishes of the family. This must change." ~ The Globe and Mail, Mar 21; BBC News, Mar 14
Canadian baby at heart of ethics debate goes to US for surgery
Jared Yee
Canada
futile care